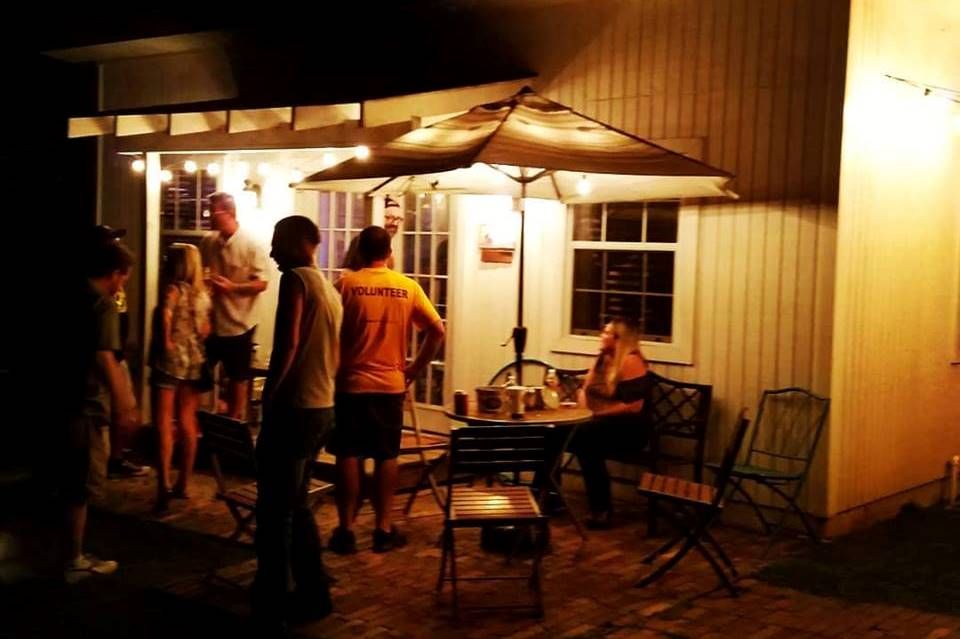 I was, in many ways, a late bloomer. I played my 1st real gig in Little Rock when I was 46 years old. I released my 1st record at 53. I skipped over all the young musician angst and the accompanying dreams of record deals and arena shows. I married my college crush. I got a "real job". We raised a family. I played and sang at church. Then, with my kids more or less grown, some buddies and I put together a band and we started playing a regular monthly gig at the city's most revered dive-bar. I had nothing to prove… and everything to prove. Our friends came and we made some new friends too. I got to know other members of the local music community. 
And, after decades of trying, I figured out what kind of songwriter I was and gave myself permission to be that songwriter. I started reading southern fiction. I poured over Faulkner, Welty, and O'Connor. Then I found William Gay and Larry Brown; Barry Hannah and Ron Rash; Donald Harrington and Daniel Woodrell. I made peace with the realization that my story was a southern story and I started telling that story with a handful of cowboy chords I hoped would be sufficient if the words were good enough. These stories led me to other gigs… scarier gigs… gigs where I could not hide behind an amazing rhythm section and an Allman/Garcia possessed lead guitarist. 
"I'll open up my heart if you'll believe it… or promise not to tell me if you don't." 
Eventually, I got to do some solo opening slots for some heroes. I got to do a weekly residency at another legendary local bar for almost a year. And, I hit it big on the restaurant patio circuit. I played a lot and the gigs stopped being scary. And then… they stopped being fun. 
There is nothing better than singing songs and telling stories to folks who are inclined to listen, to hear. There is nothing more soul-satisfying than experiencing the connection that comes from telling your story and seeing it intersect with the stories of the listeners. It does not happen every time but you always believe that it might… hope that it might… unless there is a game on. 
Playing in rooms where folks came to hear music does not guarantee that you will find a receptive crowd. Playing in rooms where folks came to do something else usually means that you won't. Playing a set only a few feet from a giant television featuring any kind of sporting event is a fairly accurate predictor. Dodging ping-pong balls during a ballad is merely confirmation. Repeatedly being told that you are "too loud" during a solo acoustic set is a good indicator of your importance in the room. None of these things is unique and virtually every musician I know has and continues to endure them. If I were attempting to make a living as a musician I think I'd likely continue to endure them as well. But… 
I have a day job… and Netflix. 
I work at a full-time, non-music-related job that I don't like very much. An 8 hour day in an office followed by three hours slinging songs on a restaurant patio (where patrons are inside watching the game in the air conditioning) might have seemed noble or romantic at 24 but, at 54, it is just exhausting. I would truly rather be at home watching "The Americans" or "Doc Martin" with my wife. I'd rather be playing with my grandkids. I get that this is often the line that divides serious musicians from hobbyists. I understand that "paying dues" is the only path to success but I also know that this is somewhat dependent on how we define success. I am in my mid-fifties. I am overweight and short. I am never going to be famous. I am going to work my day job, likely until I die. But I am also going to keep writing and singing stories for folks who want to hear them because, for me, success is found in moments rather than in lifetimes. 
Last weekend I played a bunch of my songs (and a few of Guy's, Prine's and Radney's) in a backyard shed that had been converted to a listening room. The room was tiny and packed. There was beer and boxed wine. There were shots of bourbon and tequila. And every soul in the room came to hear a storyteller that most had never heard before. They laughed at his jokes. They got teary during the sad songs. They whispered "damn…" when the songs told dark and true tales of broken people the storyteller used to know. Connection happened. Community happened. Necks were hugged and friends were found. And I went home with a pretty clear a picture of what success means for me. I would gladly trade 25 or 30 "background music" gigs for one magical night like that. And, you know what? I think I can. 
The last few years (and all the associated busyness) have been invaluable. I have gained confidence as a solo performer and I am certain that I am a better performer than I was a few years ago. I do not regret any of those gigs and am grateful to all the brewpubs and restaurants that have let me play and even paid me well to do so. But… even though I know every gig will not turn out like last weekend's, I really don't want to play any more gigs where I know it can't. If the possibility of magic is off the table, I'd rather stay home. I swear there is no arrogance in this. I do not think I am too good to play these gigs but, more likely, not good enough. I don't possess the tools to draw a crowd away from a baseball game on the television or a pool tournament in the corner. I tell stories and I need a crowd that wants to hear stories. I think I am ok with waiting around for those crowds even if they only come a few times a year.  Otherwise; I'll be playing with my grandkids, hanging with my wife, and writing some new stories for the rest of you (if you have made it this far then I assume you are one of the folks who want to hear them). I'll also be leaning hard into a new community of "Farmers" who seem to have taken me in. I can't wait to see what grows from those seeds.  
So… Thanks to every soul that has mingled with mine. I hope to see you soon in a living room, in a backyard, around a campfire, or maybe in a cool dive bar somewhere down the line. I'll bring the stories if you'll bring the bourbon. Peace.